No dia 27 de setembro (5a feira) de 2018, as 19h, o diretor das atividades de extensão educacional do Perimeter Institute, Greg Dick, irá apresentar as atividades de extensão educacionais do Perimeter Institute e a parceiria com o ICTP-SAIFR que vem traduzindo os materiais para o português e realizado a formação de professores brasileiros. A palestra é aberta ao público, e será realizada, em inglês, no auditório do IFT.  A palestra será transmitida online ao vivo neste link . Saiba mais no cartaz do evento.
Summary: We will present some activities of the Perimeter Institute outreach department, which is probably the most extensive program ever developed on the subject of theoretical physics for the general public.  In addition, we will describe the partnership between Perimeter Institute and ICTP-SAIFR which is translating Perimeter educational material and training Brazilian teachers how to use this material in their classroom.

Nos dias 29 e 30 de setembro (sábado e domingo) de 2018, o ICTP-SAIFR organizará a terceira edição do workshop Cutting-edge In-class Physics Resources para professores do ensino médio em parceria com o Perimeter Institute for Theoretical Physics e o Instituto Serrapilheira. O workshop será gratuito e em inglês.
Nesta edição do workshop ampliaremos o numero de participantes, com  25 professores selecionados da região de São Paulo e outros 25 professores de outras regiões do Brasil. As inscrições estão encerradas. Recursos limitados para viagem e despesas locais dos participantes de fora de São Paulo serão disponibilizados pelo Instituto Serrapilheira.
Para facilitar a formação de uma rede de professores após o workshop, daremos preferência a grupos pequenos de 2-3 professores de uma mesma cidade. Por este motivo, sugerimos que professores interessados em participar do Workshop incentive a inscrição de colegas da mesma cidade.
Se quer receber informações sobre nossas atividades para alunos e professores de ensino médio, escreva uma mensagem para ensinomedio@ictp-saifr.org
Organizadores: Gregory Dick (Perimeter I.), Dave Fish (Perimeter I.) e Pedro Vieira (SAIFR-IFT-Perimeter I.)
Descrição:
Perimeter resources bring challenging modern physics concepts – including wave-particle duality, dark matter, astronomy, and particle physics – to life using a mix of hands-on activities, rich video, and other creative approaches. You will each get the full suite of classroom-ready, modifiable resources that have been correlated with the Science Standards of São Paulo State, for you to share with your students for free.
List of Participants: Click here.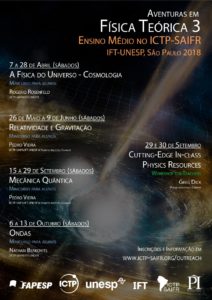 Inscrições encerradas
DAY 1
| | |
| --- | --- |
| 09:00 am | Registration |
| 10:00 am | Introduction |
| 10:15 am | Scientific Models – Black Box |
| 10:30 am | Dark Matter |
| 11:30 am | COFFEE BREAK |
| 11:40 am | Black holes (how do you make a black hole?)(Estimating the mass of Sgr A*) |
| 1:00 pm | Lunch |
| 2:30 pm | Quantum Reality (Wave-Particle Duality) |
| 3:45 pm | COFFEE BREAK |
| 4:00pm | Plank's Constant Lab |
| 5:30pm | Participants depart |
DAY 2
| | |
| --- | --- |
| 10:00 am | Scientific Models – Coke Bottle and String |
| 10:15 am | Process of Science: What do you see? Observation/Inference |
| 10:30 am | Process of Science: 'Why is it like that?' Activity Frayer Model Activity |
| 11:15 am | COFFEE BREAK |
| 11:25 am | The expansion of space/where is the centre? |
| 12:20 pm | The signature of stars |
| 1:00 pm | Lunch |
| 2:30 pm | What´s New in Physics? – Event horizon Telescope Activity |
| 3:45 pm | COFFEE BREAK |
| 4:00pm | Particle Physics – Conservation of Momentum in Particle Collisions |
| 5:30pm | Participants depart |